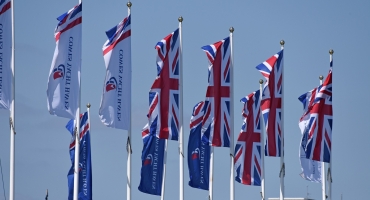 From the 4th July Cowes Yacht Haven is looking forward to welcoming boats back for overnight stays.
Things are however, a little different and we have made some changes to keep our staff and visitors safe.
Access to the Marina Office is via a one-way system, please follow the arrows on the ground.
The Marina Office has a protective screen and hand sanitiser available, and we're limiting to one customer inside at a time.
Payments are by payment card only.
We encourage all visitors to use the on-site hand washing facilities regularly during their stay.
We aim to maintain our high standard of cleaning on-site and have increased the regularity of our cleaning procedures.
We recommend that visitors use the wash facilities onboard their boats wherever possible.
We are putting in place measures to manage the usage of shared washroom and toilet facilities by overnight visitors.
We are keeping shower facilities closed for the time being but will keep this under constant review.
We have clear information to alert visitors to the increased risk of using communal washrooms and toilets.
Initially, we will not be rafting boats while we are getting to grips with our new processes.
Berths can be booked in advance by calling or emailing the Marina Office. We please ask that you contact the Marina staff via VHF CH80 or by telephone 01983 299975 before entering the Marina.
The Pontoon View will also reopen from the 4th July offering a range of hot and cold refreshments with excellent views across the Marina.  Its new home is in front of the Marina Office at the top of the South basin ramp.
Finally, we are currently running a boatyard offer until the end of July for a lift, wash, 48 hours storage and launch for £35.00 per metre. Please call the office if you would like to book.
Looking forward to seeing you all.
Daniel Jehan
Managing Director