The Events Centre is a purpose-built venue designed to offer maximum flexibility for a wide range of events.
The main hall caters up to 400 people for a seated formal dinner and up to 800 guests for a drinks reception. The terrace, overlooking the waters of the Solent, seats up to 150 people for a ceremony and can accommodate 300 guests for a drinks reception.
Being passionate about everything we do, we ensure you arrive confident in our preparation and leave with the knowledge that your event was a huge success.
Whatever the occasion,  we will make sure that you have everything you need, however small. 
In fact, our experienced Event Manager will probably come up with details that you hadn't even considered! So give us a call and take advantage of our event management team's expertise. 
Struggling to find suitable entertainment for your event?
The Events team has a rich portfolio from which we can recommend entertainment: from DJs to magicians, live bands to celebrity speakers, acrobats to comedians.
Large or small, sitting or standing, formal or informal, our spaces are completely adaptable. Please get in touch to discuss your individual needs so that we can tailor the space to suit your event.  
The Events Centre hosts all sizes of events ranging from international sailing regattas to local business conferences, corporate functions and weddings to smaller bespoke functions.
From the moment you make an enquiry through to feedback after your event, you will have direct contact with our Events Centre team, who will carefully guide you through each stage of the event planning process.
Our event management team has considerable experience catering for a great variety of events, from small buffets to full-blown gala dinners.  The Events Centre team and our professional caterers will help you create the perfect menu, paying close attention to your budget and honouring any special requests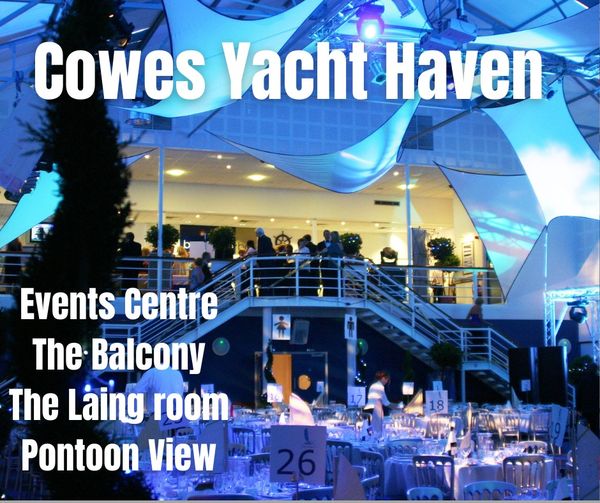 Follow us on Facebook
Follow our dedicated Events facebook page for all information on our current and future events. As well as hiring our unique waterfront Events Centre, Meeting rooms and Solent View Terrace we also hold our own events all year round so to keep up to date with What's On  give our dedicated events page a follow.