Visiting by sea from UK ports
A full-service marina in the heart of Cowes.
We are a full service marina based in the very heart of Cowes welcoming visiting yachts for short and long term berthing. If you are visiting Cowes for lunch, planning a weekend break, participating in a regatta, or planning to base yourself in Cowes to explore the Isle of Wight we would be delighted to accommodate you. Please telephone 01983 299975 or email [email protected] in advance to check availability and pre-book your space if you plan to come during the summer months.
When you are in the Solent approaching Cowes and the mouth of the Medina River contact Cowes Yacht Haven on VHF 80, and follow the berthing instructions from the on duty dockmaster.
For more information during your stay – use the following links:
Cowes Harbour Handbook
A useful collection of information – printed copies are available in the Marina Office
Notices to Mariners
Latest safety and navigation updates
Weather information
Bramblemet – weather condition readings on the Bramble Bank
Met office surface pressure charts
Fuelling up
Lallows boatyard
Cowes Harbour Commission Fuel Berth
Coast Guard: Dial 999 / 112 and ask for the Coastguard
Racing
SCRA interactive chart of racing marks
Cowes Harbour Taxis 01983 300777
Use the following resources to explore Cowes and the Isle of Wight when you go ashore:
Visit Isle of Wight gives a good roundup of the shops, bars restaurants and activities a few minutes' walk from Cowes Yacht Haven.

Visit Isle of Wight provides a comprehensive tourist guide to the whole island.

To provision – Sainsburys, Marks and Spencer Food Hall, Harbour Kitchen and Tiffins are all within a 5 minute walk.
If you need a Chandlery try Joliffes or Pascal Atkey.
Ask in the Marina Office for directions and advice on other services available in Cowes.
New regulations came into force from 1st January 2021 and were amended again in January 2022.  
If you are arriving from outside of UK waters you will need to seek permission from UK Border Force before landing.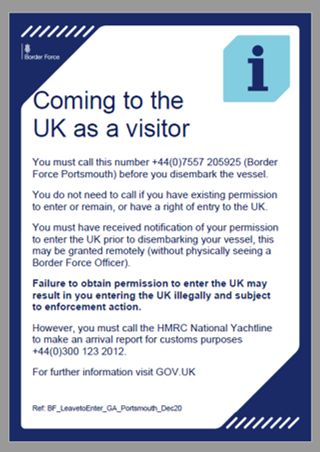 Download this information document then call Border Force.
Please also take notice of Local Notice to Mariners 12 of 2023, which describes the procedures for flying Q Flag, Customs instructions as well as Immigration and departing UK waters.